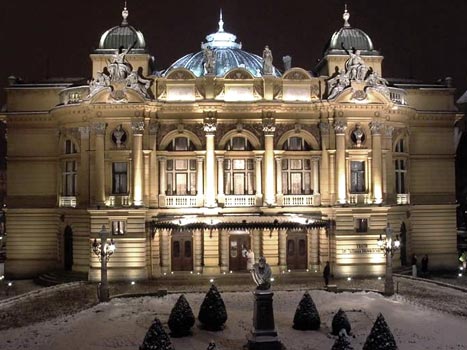 (Photo:Local-life.com)
She clutched the opera tickets firmly and stepped into Juliusz Słowacki Theatre, Krakow.
It wasn't like any other time. For she possessed fewer clues and had to rely more on her instincts.
She looked majestic in the silver, backless maxi dress. She never failed to draw attention anyway.  
She knew the question and the accurate answer.
The man in the tuxedo was ogling at her for more than the standard seconds. She knew. She approached.
"Balloons. Gold or Black?" she winked.
"Purple." 
She turned back sensing the danger.
The opera was yet to start. But she must leave.
As she hurried out, the doorkeeper asked, "Black or Gold?"
The extent of danger was so evident that she transmitted all the secret alarms as possible.
___________
{Written for What Pegman Saw- Juliusz Słowacki Theatre in Krakow, Poland}